Construction on this lakefront home is nearly complete. See the before and after shots. A little over a year ago, we posted about a lake house reno project we took on in Hopatcong, New Jersey. At the time, we were in the design phase of the architectural process. Here's one of the early sketches we posted: The property is located in a cove that manages to stay calm and peaceful in the summer months, a rarity at this popular lake. But the original home left a lot to be desired. Over the years, it had undergone several ill-conceived and poorly...
read more
Taking a "less is more" approach, we were able to provide an impactful design change with very little construction, saving the homeowners time and money. About 10 years ago, the owners constructed an addition to their home in Westfield, New Jersey, which divided the kitchen into two separate spaces — one for cooking and eating, and one for TV viewing and playing. At the time, their children were young. But kids grow up, and life changes. The room configuration just didn't work anymore. Before – Bulky Built-ins and Cramped Spaces...
read more
When selecting an architect for your project, it's important that you ask each candidate tough questions to gain a better understanding of the qualities they would bring to your project. Every architect has his or her own set of skills, expertise, and values, and your job is to select one that aligns with your project goals. To help you in your architect interviews, we've listed five challenging questions that you should ask your candidates during the early stages of selection, courtesy of The American Institute of Architects (AIA). #1...
read more
Annual survey and analysis of 16 million monthly users reveals top-rated building, remodeling and design professionals We are pleased to announce that De Biasse & Seminara Architecture has been awarded "Best Of Houzz" for Customer Satisfaction by Houzz, the leading platform for home remodeling and design. Our architecture firm was chosen by the more than 16 million monthly users that comprise the Houzz community. Customer Satisfaction honors are determined by a variety of factors, including the number and quality of client reviews we...
read more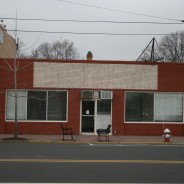 See how we transformed this building in Manville from an old, run-down auto parts store to a modern Verizon retail store. The building, which is located on a tiny triangular lot, had been owned by a local family since the 1950s. The family brothers ran an auto parts business there until the recession hit, forcing them to close the business. They were considering the idea of opening a new business at the location when they found a very patient potential tenant: a cellular reseller, for whom they decided to improve, alter, and renovate the...
read more