Restoring the Hoboken Terminal After Superstorm Sandy
When Hurricane Sandy hit last October, the Hoboken Terminal, along with many other historical buildings and homes at sea level, suffered severe flood damage.
In an effort to restore the terminal to its former glory, New Jersey Transit, the state's largest transportation agency and owner of the terminal, contracted several experts who deal with historic preservation to assess the damage for the agency.
De Biasse & Seminara Architects was one of many firms chosen to assist in the restoration effort. We were responsible for coordinating all architectural documentation as well as condition assessment of the main waiting room and retail areas.
We have been working as part of a team, in conjunction with engineers, conservators, restoration contractors, stone artisans, hardware consultants, mechanical contractors, and more.
Our specific job involved working with the conservator in determining what could be cleaned and salvaged and what needed to be replaced to get the terminal back in shape, all while adhering to the federal standards for historic preservation set by the Secretary of the Interior.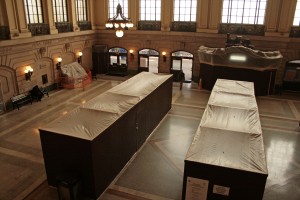 Work is still underway and, of course, there's a bit of a time crunch. New York will be hosting the 2014 Super Bowl when thousands of fans and members of the media will be traveling through the Hoboken Terminal en route to the big game.
We are proud to be able to lend our expertise to such an important and meaningful project.