Rutgers Prototype Transit Shelter, New Brunswick, NJ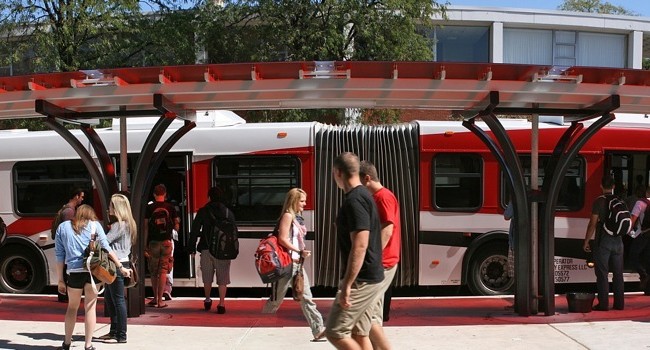 Text messaging and e-mail transit alerts as well as NextBus®-type technologies are minimizing the need for elaborate enclosed transit system shelters on college campuses and elsewhere. Transit shelters are becoming iconic stop-markers, providing protection from overhead elements for relatively short periods of time. The design for the Rutgers University transit system at the New Brunswick campus juxtaposes light and materials to convey a sense of place and time.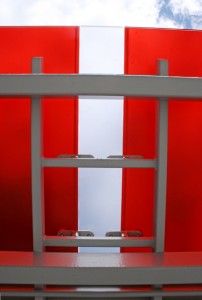 After years of planning, grandiose designs, and false starts, Rutgers University turned to us to design a transit shelter that would be durable, cost-effective and an identifying icon throughout all campuses. Our solution successfully compliments the varying surrounding architecture and shows real school spirit by bathing the students in scarlet red. The entire design, fabrication and construction processes for the College Avenue Student Center Shelter were completed within a 3-month period, meeting an aggressive schedule set by the University. The structure is a simple canopy of tree-like cluster of columns supporting a steel pergola. The absence of walls creates unobstructed sidewalks and sightlines for pedestrians, drivers, and adjacent building occupants. The steel super-structure is covered by Rutgers scarlet red polycarbonate translucent roofing panels.
Or click an image below for an expanded view and highlights of our project.
[slideshow_deploy id='507′]