Contextual Craftsman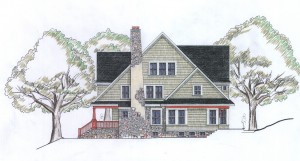 A circa 1920 home undergoing a complete renovation was destroyed by a fast moving fire. Though no one was hurt, the house and its contents were a total loss.
The owners took the fire as an opportunity to redesign their house in keeping with the neighborhood, maintaining the charm of the original with updated amenities such as larger room sizes, an open kitchen/family room and a better connection with the exterior spaces: expansive rear yard, patio, and existing in-ground pool. A three car detached garage was also incorporated. While the construction was underway, insurance paid for Montreal moving companies to relocate our salvaged stuff to a temporary abode while we waited.
The design of the new house (from the foundations up: nothing was salvageable) took design cues from elements of the original house: at the front porch, the dining room bay window and roof dormers, while incorporating newer materials: fiber-cement shingles replacing cedar clapboards, cultured stone replacing common brick, and asphalt shingles replacing wood cedar shake roof.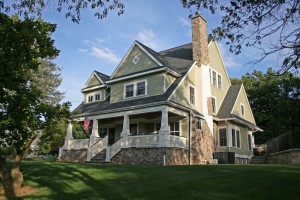 The form of the home was based on the layout of the lost home with rear entry and family room extrusions and subtractive volume corners.
Some design inspiration also came from the neighborhood vernacular: the pedestal base craftsman columns, the pattern of window muntins, as well as the design of the roof skirting at the first floor.
On an oversized lot, the new house could have been sited to allow for a minor subdivision, creating two lots instead of one. The homeowners, however, liked their neighborhood the way it was and chose to site the home and keep their lot size unchanged. The house is large but not overpowering for the lot or the neighborhood.
The rich textures and traditional earthy colors make a beautiful, welcome replacement home in which to create new memories.
Click on an image below to see the expanded version.