Hudson Podiatry, Jersey City, NJ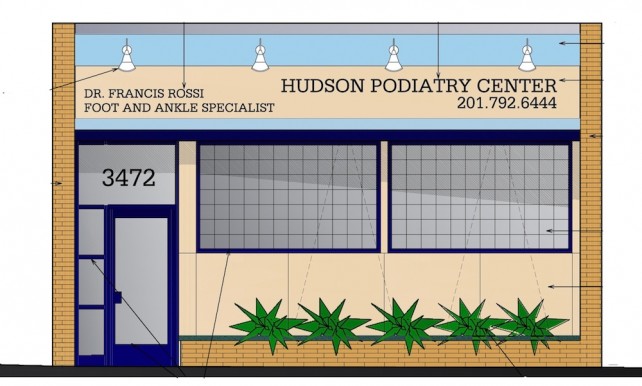 The Hudson Podiatry Center in Jersey City needed larger office space to meet the demands of their growing practice. Relocating in the area was very important to the doctors, and their patients! We evaluated a vacant dance studio a few blocks away for their use, and found that it would fit the program, with a few challenges:
The need for a Zoning Use ('D') variance,
Total (gut) renovation & reconfiguration of the space,
Elimination of the front entry "step-up" from the sidewalk to achieve handicapped accessibility.
We designed a new barrier-free office space that includes a waiting area, public/private reception, four exam rooms, an x-ray room, a private office and support spaces. Our public presentations and renderings were instrumental in securing the approvals for all required variances including the front elevation upgrades that were part of the city's Urban Enterprise Zone. The rotated square core arrangement of the exam rooms minimizes physician corridor steps between patients. A large skylight over that core was proposed to bring day light deep into the building's interior.
Our team worked with the state and local code enforcement agencies to correct the existing building code violations and provide the local required upgrades of a full sprinkler system and fire alarm conforming to NFPA13. We also received NJ SmartStart™ Building Incentive Approvals for Gas Hot Water Heating, and Gas Heating.